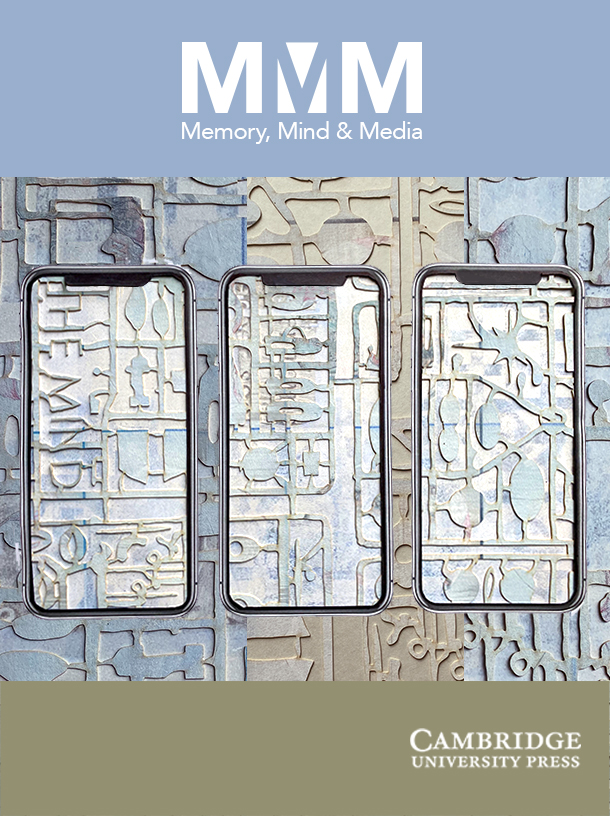 There is a new open access journal in the making, and I am glad to be part of its editorial board. Please check out the homepage of Memory, Mind and Media at Cambridge University Press. While its official launch date is 2022, first online articles will be published by mid-2021. The journal is edited by Andrew Hoskins (University of Glasgow, UK) and Amanda J. Barnier (Macquarie University, Australia).
Memory, Mind & Media (MMM) explores the impact of media and technology on individual, social and cultural remembering and forgetting. This agenda-setting journal fosters high-quality, interdisciplinary conversations combining cognitive, social and cultural approaches to the study of memory and forgetting in the digital era. The pervasiveness, complexity and immediacy of digital media, communication networks and archives are transforming what memory is and what memory does, changing the relationship between memory in the head and memory in the wild.

MMM offers a new home for a wide variety of scholars working on these questions, within and across disciplines, from history, philosophy, media studies, cultural studies, law, literature, anthropology, political science, sociology, neuroscience, psychology, cognitive and computational science and elsewhere.

The journal gives priority to submissions that are cross-disciplinary and/or interdisciplinary, experimental, agenda-setting and push the boundaries of existing knowledge and methods. The journal insists on jargon-free, plain English submissions to ensure a widely accessible forum for cutting edge work.

MMM is a high-quality, peer-reviewed journal, publishing online and Open Access. As a barrier-free Gold OA journal, a fee waiver system is in place for unfunded authors. You can submit your article using our online submission system here. General queries should go to memorycambridge@gmail.com.