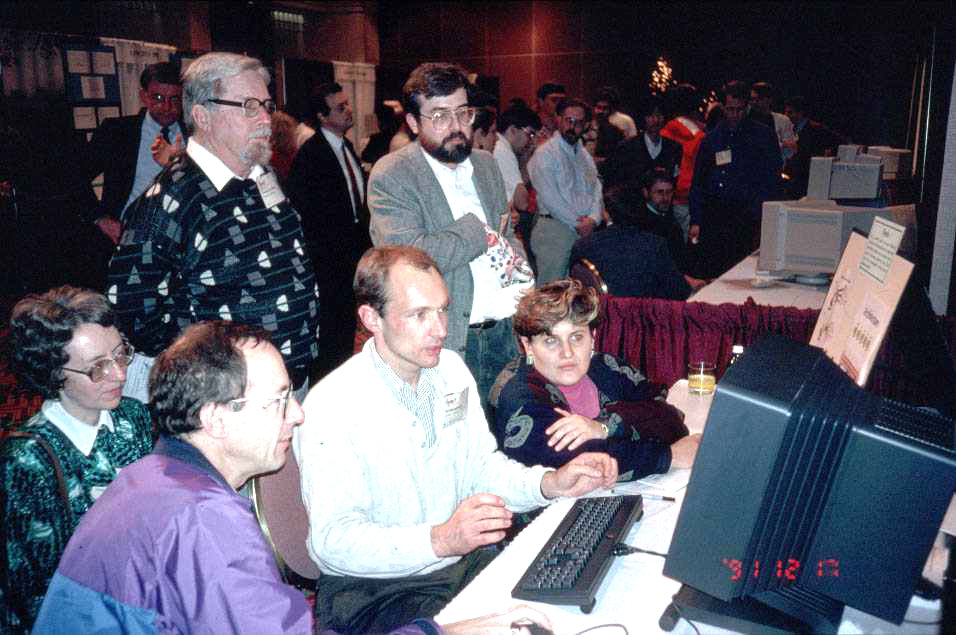 Based on historical case studies focused on media and data practices, the project reconstructs the co-operative creation of networked media since 1989. From a media-historical perspective, it aims to provide a contribution to the European and transatlantic history of the Internet and the World Wide Web. From a media-theoretical perspective, the project aims to develop and specify a concept of digitality that takes into account its cooperative emergence, its infrastructural maintenance, universalization, and its specific publics.
We thereby focus on the constitutive role of a) interchangeability of representations and the growth of digital systems, b) cooperative production of interoperability and modularity, and c) elementary practices of reading, writing and algorithmic control. The three work packages of the project explore
the constitution of the World Wide Web via its situated work constitution (Gießmann, Schüttpelz, Taha, Volmar),
the development of intranets using the example of German corporate networks (Taha) and
the emergence and spread of IP-based real-time communication via instant messaging (Volmar).
We assume that the establishment of the Internet and especially the World Wide Web as a public general-purpose infrastructure has lead to a remediation of cooperative practices of local working contexts. The project therefore therefore reconstructs the emergence and proliferation of web applications as a software- and data-oriented infrastructural history of cooperative media. We focus on the mutual production of cooperative conditions from collective, locally limited as well as translocally distributed work contexts and the corresponding situated data practices and arrangements (such as format usage, user administration, file sharing, collaborative processing of files, programming, error correction, patenting, standardization, etc.).
We are particularly interested in the interactions between work practices and the specific requirements for cooperation they produce, and in the materializations and affordances of digital micro-practices, through which cooperative conditions are ultimately realized in the form of digitally networked applications. We analyze these dynamics before the background of a longue durée of bureaucratic and administrative processes. These form the underlying socio-technical conditions that determine the materiality of cooperative computing, networking and data processing.
This research project is a part of the Collaborative Research Center "Media of Cooperation" at Siegen University. Feel free to contact us anytime! Up to date publications can be found at our Media of Cooperation homepage.
Principal Investigators: Dr. Sebastian Gießmann | Prof. Dr. Erhard Schüttpelz
Researchers: Dipl. Medienwirtin Nadine Taha | Dr. Axel Volmar
Comenius Visiting Professor: Thomas Haigh
Mercator Fellow: Valérie Schafer